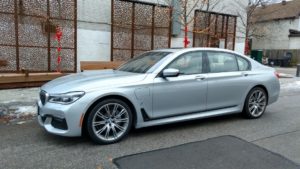 By Shari Prymak
Every vehicle segment has its benchmark; the one vehicle that every competitor tries to emulate to the best of their ability. When it comes to flagship luxury sedans, that benchmark is undoubtedly the Mercedes S-Class. It's supremely opulent and comfortable. It sets the stage for trickle-down technology. And it's the go-to choice for those with the means to do so. S-Class sales significantly surpass any direct competitor on an annual basis.
BMW must know this as well as anyone else, and they've come up with a strategy to deal with it. On the surface, the 7-Series appears to be every bit the luxury sedan the S-Class is. It's an enormous luxury limo with incredible road presence. The interior makes use of every luxurious material that BMW could get their hands on from soft leathers, to brushed metals, to handsome wood veneers. The Mercedes, of course, has all of that as well. So in order to one up its rival, what BMW has done is match the technology of the S-Class, and do one better.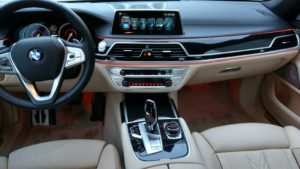 Take the fragrance system. In the Mercedes, you get a pleasant perfume that scents the cabin. In the BMW, however, you get two choices of perfumes, plus three intensity settings. That's one-upmanship at its finest. And that's just the start.
The iDrive screen and its million functions can be controlled through traditional buttons and knobs, steering wheel controls, touchscreen, voice activation, and the iDrive dial with its neat touchpad. But there's also a gesture control system which allows you to wave your hand in front of the screen to perform commands like a Jedi using the Force. It often takes more than one try to get right though, which I doubt is an issue for Luke Skywalker. Still, it's a unique touch.
Equally unique is the ignition remote, which is bit like a mini tablet with all sorts of vehicle information on it. On European models, it can even be used as a remote control to park the 7 in and out of a garage from outside the vehicle. The only issue with it really is that it's big, chunky, and just impossible to keep comfortably in your pocket.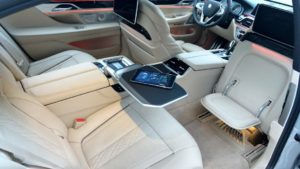 The backseat, naturally, offers all sorts of toys to play with, including a removable tablet which controls everything from the seat-mounted display screens to the endless massage settings. There's a removable Samsung tablet mounted between seats which can be used to control many things. At the touch of a button, you can even slide the front passenger seat forward, deploy a footrest, and recline the seat.
It's all quite overwhelming and rather impressive, but like the gesture controls and touchscreen remote, just a bit excessive and gimmicky. You get the sense when playing around with all this equipment that we've hit the limit of what's capable in the world of luxury. And all that's left to wow us is superfluous technology that's more about outdoing competitors than actual substance. In my mind, true luxury isn't about having the most toys. It's really more about refinement, comfort, and effortless performance.
Fortunately, the 7-Series seems to understand that part just fine. The model I tested is the entry-level 740Le, which is a plug-in hybrid capable of a 30km electric-only range. The gas-powered engine is a turbocharged 4-cylinder, which sounds a little weedy for a luxury car like this, but don't let the spec sheet fool you. The level of power and refinement from this drivetrain is quite remarkable. Whether cruising around town or gliding down the highway, the cabin remains completely hushed and serene. The transition from electric power to gas is completely seamless, and when both powerplants are working at full force, the acceleration is surprisingly brisk as well.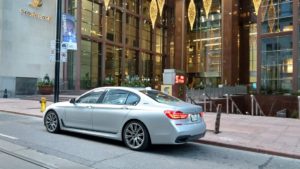 BMW has made an effort to make the hybrid 7 handle like a proper Ultimate Driving Machine as well. To be honest, I'm not sure it really worked. It is indeed fairly competent when hustled through the corners, but it never feels comfortable doing so. It's just too big and heavy, especially with all the added hybrid componentry. The 740Le does has a Sport mode, but it is best left in Comfort Plus mode where it just wafts along the road in complete pillowy smoothness. Driven gently, it's even possible to hit the official fuel economy ratings of 9.5L/100km city and 8.0L/100km highway. If a thrilling drive is what you're after, you'd be better served by the top of the range M760Li, the ultra-exclusive Alpina B7, or a sport-minded competitor such as the Jaguar XJR.
BMW is in the process of adding a plug-in hybrid option to every mainstream model in its lineup, and the 740Le helps accomplish that goal. Hybrids have never been anything other than micro niche players for BMW, but this one could be different. For one thing, there doesn't seem to be a price penalty for going green. At $107,990 to start, the 740Le is a whole 10 grand cheaper than the next up 750Li. It is even cheaper than the competing Mercedes S550e hybrid by the same amount, which helps make it a worthy alternative. It is far from the most exciting, or even the most special, 7-Series, but if comfort, serenity, and a green image are enough, the 740Le could be the best fit in the range.
For more details, please visit the BMW Canada website.